Fund For Teachers
Inspiring Educators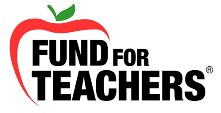 Fund For Teachers Campaign
Fund for Teachers enriches the personal and professional growth of teachers by recognizing and supporting them as they identify and pursue opportunities around the globe that will have the greatest impact on their practice, the academic lives of their students and on their school communities.
Believing the teacher knows best how they can make a better impact in their classroom, Fund for Teachers awards fellowships for self-designed professional growth to PreK-12 teachers who recognize the value of inquiry, the power of knowledge, and their ability to make a difference.
Each Fund for Teachers fellowship is as unique as the teacher who designed it, and since 2001, approximately 5,000 teachers have been awarded $17.8 million in Fund for Teachers grants-up to $5,000 for individuals, or $10,000 for teams. Fund for Teachers fellowships have taken place in 124 countries on every continent, empowering teachers to explore countless ideas, terrains, and cultures.
The Fund for Teachers fellowship application becomes available online each October, with an application deadline in January. Awardees are notified in April and fellowships take place during the summer. The fellowship application asks teachers to thoughtfully consider not only what objective they'd like to pursue, but also why, and how they foresee the proposed experience making a difference for them as teachers, for their students, and for their school community.
Fellowships have included:
•         Kayaking the entire length of the Lower Mississippi River to conduct scientific research and develop a river ecology unit;
•         Learning excavation skills on an archeological dig with the Israeli Antiquities Department in Israel, in order to construct a 50x50x6 tri-level dig site on campus, back in the US, to be used by K-12 students;
•         Attending the Teachers Reading and Writing Project at Columbia University to explore different theories of literacy, in order to re-build and elementary reading program from the ground up, and
•         Studying China's ethnic minorities to gain a better understanding of what it means to be "Chinese," and to develop this understanding into curriculum at America's first English/Mandarin dual-language school.
Additionally, in the spring, Fund for Teachers bestows the Plank Fellowship Award. The award honors select Fund for Teachers Fellows who have been back in the classroom for two years or more, and who extended the reach of their fellowships in inspiring ways that enrich their teaching practice.
Please follow FFT Fellows, adventures and the amazing impacts of their fellowships on the FFT Facebook Fan Page, Flickr site, and at fundforteachers.org.
Cradle To Career Community
StrivePartnership is a member of the StriveTogether Cradle to Career Network, a national network of communities working to improve education success for every child through a data-driven, quality collective impact approach. Connected by their work on the ground, StriveTogether Cradle to Career Network members are committed to sharing knowledge, building upon what works and driving action to improve key outcomes along every child's path to education success.
StrivePartnership is focused on the success of our children: every child, every step of the way, cradle to career. StrivePartnership unites common providers around shared issues, goals, measurements and results, and then actively supports and strengthens strategies that work.